MSM Quality Bar Raised, Cardinal Nutrition Receives NNFA GMP Received

VANCOUVER, Wash., October 9, 2000 — Following an "A" compliance rating, Cardinal Nutrition (now Bergstrom Nutrition) recently became the first and only manufacturer of MSM to be awarded the coveted Good Manufacturing Practices (GMP) certification from National Nutritional Foods Association. "We have always prided ourselves as having one of the industry´s premier manufacturing facilities in terms of technology, MSM production expertise and overall quality control," said George Bergstrom, founder and president of Cardinal Nutrition. "Since we are the primary manufacturer and not just a broker, our goal has always been to set the industry standard for MSM quality and consistency." Companies applying for an NNFA GMP certification receive an "A", "B" or "C" compliance rating following a rigorous review of their personnel, plant and ground, sanitation, equipment, quality operations, production and process controls. It also reviews warehouse, distribution and post-distribution practices. Bergstrom said that to achieve the GMP certification, an interdisciplinary team of Cardinal Nutrition employees created an MSM Quality Manual documenting every detail of the company´s production and quality control processes. He also noted that since Cardinal Nutrition´s manufacturing facility is the only one in the world devoted exclusively to the production of MSM it was very important to demonstrate this leadership role and high level of product quality. The GMP certification is the latest in a series of market leadership achievements for Cardinal Nutrition. The company has always provided licensed and patented material to its customers, and was the first MSM manufacturer to perform third party testing on every batch of product to ensure quality. Cardinal Nutrition was also the first to offer Kosher certified MSM. "As the market leader we have always felt a certain responsibility to raise the MSM production bar," concluded Bergstrom. "We provide our customers with more than lip service about quality. We document it."
FDA CERTIFIED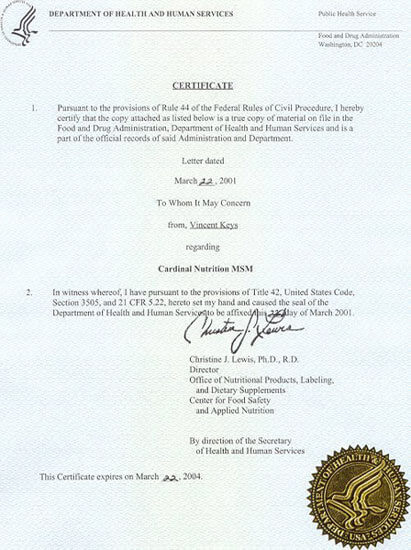 Kosher Certified

All our OptiMSM products are Kosher Certified OptiMSM is certified as a kosher ingredient by the Union of Orthodox Jewish Congregations of America. This status is designated by the OU trademark. Kosher certification was granted only after the OptiMSM manufacturing facility passed through rabbinical inspections and criteria.
Endorsed by Stanley W. Jacob, M.D.
Professor of Surgery, Oregon Health Sciences University
Portland, Oregon, USA
It is my great privilege and honor to work with Dr. Ron Breteler of KALA Health, Inc. to share with you an amazing nutrient that I have found to be one of the most exciting discoveries of the 20th Century: MSM…read more
JOIN TODAY!
Sign up for email updates. First time subscribers SAVE 15% on your first online order and receive a FREE MSM Muscle & Joint Cream with your purchase!