Did you know that MSM can help you get clear skin, shiny hair, strong nails, and a healthy complexion? Find out why MSM is nicknamed "The Beauty Mineral," and how [...]
JOIN TODAY!
Sign up for email updates. First time subscribers SAVE 15% + receive a FREE MSM Muscle & Joint Cream with your first online order!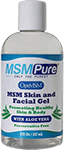 FREE MSM Skin & Facial Gel*
$16.95 Value!
FREE MSM Skin & Facial Gel with purchase
Receive a free bottle of MSM Skin & Facial Gel (8 oz.) with your purchase.  This offer has no cash value. Promotional savings may be deducted from returns. Not valid on previous purchases.